Typically the first snow of the season means photos of the kids happily running around throwing snow at everyone and everything. 
But this time we give you something different – this time you get:
Muffin, Brave Guinea Pig Explorer of the Artic Midwest
Muffin had no idea that she would be expected to tackle a snowy landscape during her trip outdoors today.  But she is known for her resourcefulness and she was able to find some tasty grass to nibble on despite the chill.
Good thing she had an appropriate sweater for such a major event!
One of the best parts of an adventure is getting to explore – in this case, Muffin spent some time exploring the woods behind the house.  She found a great spot to enjoy the view (a fallen tree trunk). 
She was hoping to see some wildlife – a deer perhaps – but it was so quiet she could listen to the snow falling and think deep thoughts, like what she should request for her snack tonight (carrots, cilantro or peppers?). 
Here is the view Muffin is enjoying, very pretty.
Thank you Muffin, for sharing your adventure!
(All Photos by Alexandria)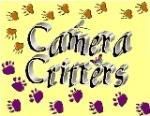 Related articles