Archive for the 'Local Activities' Category
This looks like so much fun.  I always wanted to go to a Harlem Globetrotters game when I was a kid, but never got the chance.  Now, not only could my son go to one of their games but I can sign him up for one of their clinics – he can learn basketball skills from the Harlem Globetrotters!  As Mac would say – Awesome!   He is signed up for the clinic and really excited about going!
Take a look at the information below and see if this might appeal to your junior basketball fan – it sounds like it's going to be a blast!
For the first time, the Harlem Globetrotters are conducting summer skills clinics to bring boys and girls ages 6-14 behind the curtain to see the Globetrotters' electrifying skills and tricks, while also having fun staying active.
Each participant receives:
A free ticket voucher (valued up to $40) to see the Globetrotters during their 2013 World Tour
Autographs and photos with the stars!
3-day trial pass to 24 Hour Fitness
Clinic Locations:(These are just the clinics – the games for your tickets are in 200 cities)
Phoenix       Houston     San Francisco       New Jersey
Denver        Dallas        Los Angeles         Seattle
St Louis       Miami        Las Vegas
Save $10 on registration! Enter the Coupon Code USFAMILY on the cart page after completing your registration or mention when calling 1-800-641-HOOP (4667) Click Here:  http://www.harlemglobetrotters.com/basketball-skills-clinics/summer-2012
Disclosure:  I will be provided with a ticket(s) to the Harlem Globetrotters Show when they are in town in exchange for this post.  I was not compensated in any other way.  All thoughts and opinions are my own. 
Really, they are, especially when you're a kid.  But even as an adult this can still be true.  I think we lose track of that in the busy world we tend to live in nowadays.  I wish I could find an easy way to remind myself of this on a daily or, at least, regular basis — sometimes it helps to slow down and look for the fun (free) things that are out there waiting to be discovered and explored.
One of our favorite things to do that is free but which we often forget about in the rush to do so many other things is the creek at Mastodon Park.  It's a wonderful place to explore, splash about, hunt for crawdads and tadpoles and little fish, and just cool off on a hot summer day.
We always keep water shoes, towels and extra clothes in the car for just these sorts of stops.  That way everyone get get wet and have fun without worrying about having to ride home soaking wet!  We also tend to keep some extra tupperware bowls handy for chasing crawdads, etc.
It takes a lot of patience sometimes to find and catch the crawdads — Mac figured out pretty quickly that they like to hide under rocks.
Alex headed out to deeper water to try and snare a small fish but she found that they move fast!  She never did catch one but she had a lot of fun trying and we talked about the different kinds of fish that might be found in the creek and how the different parts of the creek (shallow, deep, brushy areas, etc) provided different critters with the habitats they needed to survive.
It took them a bit to figure out that catching crawdads works better as a team — once they decided that they were able to catch several with both of them scooping together they did a lot better.
Teamwork!
A couple of the crawdads they caught — they always name them, observe them for a while and then release them.  A family who was there at the same time told the kids that they taste really good — Alex and Mac said there was no way they would cook their new friends!
The creek area is so pretty.  There are also trails, a playground, picnic areas and just a lot of beautiful scenery.  We really need to remember to visit more often to enjoy this part of our local natural resources.  Or, as the kids say, let's go have some fun!
Well, maybe not snuggling — but after petting the stingrays during a Saint Louis zoo visit both Mac and Alex came away with a much more positive view of them.  Even I had to admit that they were pretty neat!  One of the zoo workers explained to us that there were several different kinds of stingrays in the exhibit as well as four different kinds of sharks (small ones).  The sharks never came close enough for touching but the stingrays are well trained to glide past whoever has their hands in the water.
It was a rather strange experience to stroke down their backs as they glided by — they have unusual looking eyes and to me they felt like wet velvet.  The kids were fascinated and asked a lot of questions about what the stingrays eat and where they live — we walked around the perimeter and read the various exhibits which explained that they like various clams etc. to eat and they live mostly along the coasts of Florida, South America and Africa.
The kids had a great experience and learned a lot in the process.
Alex is in love with owls lately.  She has almost finished the entire Guardians of Ga'Hoole series and has watched the Guardians movie so much she wore out the dvd (I told her to try and make the second one last longer!).  She has expanded to reading non-fiction books about owls and collecting owls for her bedroom.  She even has owls on her back to school messenger bag.
So it was really exciting when we went to the St. Louis Zoo recently and discovered an owl on display in the Children's Zoo.  Alex enjoyed talking the zookeeper about the owl but the biggest thrill was getting to actually touch it!   I think I will add the book about Wesley the Owl to our reading list this fall, I read it and really enjoyed it, and it would probably give Alex a lot of useful information about owls like the ones at the zoo and how the zookeepers take care of them.
Isn't he (or she) just gorgeous!  S/he can't be set free because of an injury which has left it blind in one eye.
And here is Alex getting to touch the little owl, I don't think Alex is breathing here at all
Related articles
How cute is this?  (At the Saint Louis Zoo)
It's on the wall of the main building in the Children's Zoo with these really cute froggies right outside:
Related articles
I have seen beavers at the zoo, but I have never seen a beaver in the "wild", so it was really exciting to me to have that opportunity.  The kids were at the Wildlife Rescue Center for their Junior Volunteer meeting last weekend, so I decided to take a walk around the grounds since it was a nice day.  One of the Rescue Center's employees had told me that they were having a real problem with the beavers that live at their pond — seems they are chopping down a lot of the trees!
So I wandered down one of the hiking trails to check out how many trees the beavers have taken down recently — quite a few actually!
I've never seen beaver tree-felling techniques up close before!
They certainly are industrious:
After looking at the wide swath of missing trees, I walked by the pond for a bit.  The beaver dam itself is on the other side of the pond and it was too muddy for a long hike on that particular day.
But then I surprised a beaver who was hanging out along the edge of the pond — I surprised him, he surprised me — he slapped his tail most emphatically at me and swam away.  I stood there for a while hoping he would return, which he eventually did, clambering back up at the edge of the water and eyeing me up for a bit before deciding I didn't look very threatening.
I took several pictures of him (or her), although my camera is very limited.  I was just so excited to get to see a beaver in a natural habitat:
Alex was so jealous when I told her that I got to see one of the beavers.  I've promised her that next month we will get to the meeting early and take a walk over by the beaver dam — maybe she will get to see one of the furry critters herself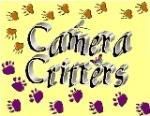 Related articles
Yes, this is a bit late in the month but then I think every month should be Library Lovers Month!  But it seems that February is "officially" Library Lovers Month for all public, private and school libraries.
I do love libraries — just walking into one makes me feel better — I relax, I breathe more easily and time slows down.  There is no rushing, no frantic necessities, nothing to impede upon the sense that there is nothing but me and so many books to explore at my leisure.  It's a whole world unto itself and one that I would hate to do without.  I was raised going to libraries on a regular basis and have been taking my own kids since they were born — we go at least once a week and if we don't, they want to know why we haven't!
So Happy Library Lovers Month to one and all!!
In honor of Library Lovers Month here are some fun links that I discovered:
The first three links are part of the Library Support Net site:
Fun Bookmarks — to print out and mark your spot.
Bookish Email Postcards — to send to all your book loving friends!
Movies Featuring Librarians – My personal favorites are the National Treasure movies and The Librarian movies featuring Noah Wylie.
How to Love Your Library — there are several suggestions here that I hadn't thought about, like buying a subscription to a magazine that your local library doesn't carry yet.
Reasons to Visit the Library — My kids would tell you that it's not just the books that they love at our local libraries, but also the dvd's, video games, and family friendly events!
Gift Guide for Library and Book Lovers – a fun blog that features gifts that any book lovers would enjoy!
If you would like to do a library related craft I recommend making "books".  This is a project that my kids have enjoyed since they were old enough to compose simple stories and we still do this on a regular basis.  Take several pieces of paper and fold them in half.   I staple the "books" in the center fold and then the kids write and illustrate their short stories.  When they were too young to write they would draw the pictures and then dictate the story to me.  Nowadays, Alex writes and illustrates on all her own.  Mac still needs a bit of help with his but he loves to weave complicated stories to match the pictures he creates.   I have held onto some of the books they have made over the years and we enjoy pulling them out periodically and reading them again — the kids love to hear the stories once more and to marvel at how their abilities in both drawing and writing have changed and improved.  Not to mention changes in their literary interests!
Another fun library-related craft is to make bookmarks.  These can be made out of various materials — we usually recycle pieces of cardboard and decorate them with whatever craft goodies we have available.
There are some fun printable bookmarks here as well.
A really neat photo essay about some Amazing Libraries Around the World — some of these are just so cool!
The two local library systems that the kids and I spend inordinate amounts of time at and check out stacks upon stacks of books and other media:
The Saint Louis County Library and the Jefferson County Library.
Do you love and support your local libraries?  I would love to hear your library "stories"!
Related articles:
Alex and Mac are members of the Junior Volunteer program at the Wildlife Rescue Center.  They had a meeting yesterday and  I remembered to take the camera along to take some photos.   Since their Volunteer shirts are blue it seemed like a good choice for a Blue Monday!
Here they are looking at a diorama made by previous Junior Volunteers.  Each meeting the Volunteers learn about different wild animals (usually local ones that the Rescue Center rescues and rehabilitates)  and do projects or crafts.
Mac was really intrigued by all the small animals and details in the diorama:
Alex thought it was neat that the fish would follow her finger along the tank:
They learned a lot about foxes, in particular, yesterday and they went out looking for tracks by the pond.  No fox tracks, mostly deer, but it was a beautiful day and the kids seemed to enjoy themselves.  They both want to go back next month and see what else will be discussed.  Alex is especially keen about the Wildlife Rescue Center because she wants to volunteer there when she's a teenager and work in the rescue and rehabilitation of the various local animals.
Related articles
Alex and I had a wonderful time at the World Famous Lipizzaner show on Sunday afternoon.  Alex was awestruck by the beautiful horses and their "dancing" (dressage) movements.  She especially loved the "airs above the ground" which is, of course, one of the best parts of the show — watching the magnificent white stallions launch themselves into the air (with and without a rider) is truly spectacular.    As we sat there watching the show I kept thinking back to when my Grandmother had taken me (at the age of eight) to see the Lipizzaners and now here I was taking my own eight year old daughter to see the same show.   It was one of those moments that you feel there is a certain synchronicity in the world after all.    Especially when Alex told me that she would be sure to bring her own daughter to see the show someday
After the show we watched the riders untack the stallions backstage and Alex even had the opportunity to speak with one the head riders — a very nice woman who wished Alex good luck with her riding and signed the program for her.  Alex was awestruck all over again!
These photos, in honor of Blue Monday, are from the portion of the show that featured the Airs Above the Ground.  My apologies that they are a bit blurry — my camera is not meant for photos of swiftly moving steeds!
The World Bird Sanctuary is one of our favorite places to visit.  They have several special events throughout the year including International Vulture  Awareness Day (September 3, 2011), World Eagle Day (March 20, 2011) and an annual Open House (October 15, 2011).   At the Open House we were able to take a tour of their hospital and see a lot of the behind the scenes work they do to rehabilitate and care for local birds.  These photos were taken during our last visit for International Vulture Awareness Day.  We learned a great deal about vultures in general and about their important role in our environment.
My personal favorites among the many birds are the various owls:
There are several different hawks as well — unfortunately I didn't have a notebook handy to jot down who was who as I was taking pictures while also trying to keep up with the kids!
This one I'd know even without the helpful sign — the Turkey Vulture.  He was one of the featured birds for International Vulture Awareness Day, of course, and he's quite impressive up close!
Another of the various eagles, some of who take part in the bird show which the kids really enjoyed — some of the birds swoop right over your head!
This particular bird was one of Alex's and Mac's favorites — it really was very sweet looking with its funny feathers:
And, finally, a photo of a nest that the kids found fascinating just for its sheer size!  Mac thought it was entirely possible that even he could fit into it for a nap
The World Bird Sanctuary is a wonderful place to visit — fun as well as educational.  They offer free shows, nature trails, classes and nice picnic areas.  There is no fee for entrance or for parking.  The grounds are lovely and when you add in the wonderful birds (and some reptiles and a few other critters) that call the Sanctuary home it's well worth visiting.