Archive for the 'Just in General' Category
Really, it's not my fault that I need these periodic sabbaticals – the world seems to be determined to get me down most days.  But I'm going with the burst of optimism that I am feeling today, no matter how short lived it may be – LOL – and I'm going to try and  get some blogging going once again.
The school year is almost over (yhea!) and in only two short weeks the kids will be home and underfoot.  I enjoy having them around though and it's been a long school year – we are all ready for a break/change of pace.
And they have quite a few things to look forward to this summer – and things I am looking forward to doing as well.  If nothing else going swimming at Sokol and wading at the creek at Mastodon will make for some fun days with my kiddos

As Alex and MacKayla the Empress would tell you — it is very important not to rush heedlessly forward into things — one should take the time to evaluate and, of course, get ones proper rest!
I have not rushed forward to greet 2012 I must admit, I have been holding back.  I needed time to evaluate and, yes, get a little extra rest following a busy holiday season.
2011 was a tough year for various reasons although even tough years have their blessings.  And perhaps the blessings found in a challenging year are all the more appreciated for their very existence.
I would like 2012 to be a year of change — not in terms of dramatic, stage sweeping change (change and I have a difficult relationship on the best of days!) — but more in terms of rethinking my effort and focus.  Those are my key words for 2012 — Effort and Focus.  I.e., What should I be expending the most effort towards (and how that does define who I am) and is my focus on the areas that will help me move forward rather then feeling stagnant and rigid.
Family is always important to me, of course, and it is one of the areas where I feel that both my effort and focus has been off lately.  It has been haphazard, especially in the last few months.  I could write it off as stress and know that there is truth in that, but I also know that if I renew my effort and focus I can improve things for both myself and my family.
Many people pick a word or two to define the new year and this makes more sense to me then resolutions since I am very much a word-oriented person.
So my words for 2012 are:
Effort
Focus
Especially when it comes to my family (and to this blog which I keep saying I will do more with each year
  And in case you are wondering — MacKayla the Empress's word for 2012 is: Power.  Interpret as you please!
Do you have a word (or words) that you would choose to define 2012?  Or a special resolution?
Related articles
photo credit: choking sun
Join us for Gratituesday at Heavenly Homemakers!
It's still early, I know, and Spring is still several weeks away — at least officially.  But as I wander through my garden I see green and it makes me feel so good — those little shoots of green.  The daffodils and tulips are just poking through, getting ready to make their spring debut.  We even have some lovely crocus coming up — delicate little yellow and white flowers with dainty green leaves.
I love this time of year when the plants and flowers are preparing to make their first appearances — you can almost feel the sense of anticipation, of potential, that the long wait for winter to end is almost here.  Every morning there are a few more signs of spring — a few more green sprouts, a bit of color (the windflowers are usually next right after the crocus), a splash of sunlight edging the garden walls.
Spring is waiting, holding its breath, just there out of reach, tantalizing in its possibilities.
As Helen Hayes put it so well — "All through the long winter, I dream of my garden. On the first day of spring, I dig my fingers deep into the soft earth. I can feel its energy, and my spirits soar."
I can see green and my spirits are ready to soar!
photo credit: tejvanphotos
Related articles
I always find lists of things one should do "before you die" a little worrisome — I tend to feel I have a lot to make up and I better get right on it!  But I found this list of 100 Movies to See Before You Die: The All Time Greats (by Yahoo Movies) rather fun.  I've seen enough of them that I don't feel hopelessly behind — although maybe it's better to be hopelessly behind in these sorts of things — that way I can't die before I see them all
I've marked the ones I've seen so far (for more information on each of the movies, visit the link above at Yahoo Movies).  How many have you seen?
12 Angry Men (1957)

2001: A Space Odyssey (1968)    ***

The 400 Blows (1959)

8 ½ (1963)
The African Queen (1952) ***

Alien (1979)

All About Eve (1950)

Annie Hall (1977) ***

Apocalypse Now (1979)
The Battle of Algiers (1967)

Blade Runner (1982)

Blazing Saddles (1974) ***

Blow Up (1966)

Bonnie and Clyde (1967) ***

Breathless (1960)

The Bridge on the River Kwai (1957) ***

Bringing Up Baby (1938) ***

Butch Cassidy and the Sundance Kid (1969) ***
Casablanca (1942) ***

Chinatown (1974)

Citizen Kane (1941) ***

Crouching Tiger, Hidden Dragon (2000)
Die Hard (1988) ***

Do the Right Thing (1989)

Double Indemnity (1944)

Dr. Strangelove or: How I Learned to Stop Worrying and Love the Bomb (1964)

Duck Soup (1933) ***
E.T. the Extra-Terrestrial (1982) ***

Enter the Dragon (1973)

The Exorcist (1973)
Fast Times At Ridgemont High (1982) ***

The French Connection (1971)
The Godfather (1972) ***

The Godfather, Part II (1974) ***

The Good, the Bad, and the Ugly (1968)

Goodfellas (1990)

The Graduate (1967)

Grand Illusion (1938)

Groundhog Day (1993) ***
A Hard Day's Night (1964)
In the Mood For Love (2001)

It Happened One Night (1934) ***

It's a Wonderful Life (1946) ***
The Lady Eve (1941)

Lawrence of Arabia (1962) ***

The Lord of the Rings (2001,2002,2003) ***
M*A*S*H (1970) ***

The Maltese Falcon (1941) ***

The Matrix (1999) ***

Modern Times (1936)

Monty Python and the Holy Grail (1975) ***
National Lampoon's Animal House (1978)

Network (1976)

Nosferatu (1922) ***
On the Waterfront (1954)

One Flew Over the Cuckoo's Nest (1975) ***
Princess Mononoke (1999)

Psycho (1960) ***

Pulp Fiction (1994)
Raging Bull (1980)

Raiders of the Lost Ark (1981) ***

Raise the Red Lantern (1992)

Rashomon (1951)

Rear Window (1954) ***

Rebel Without a Cause (1955) ***

Rocky (1976) ***

Roman Holiday (1953) ***
Saving Private Ryan (1998) ***

Schindler's List (1993) ***

The Searchers (1956)

Seven Samurai (1954)

The Shawshank Redemption (1994)

The Silence of the Lambs (1991) ***

Singin' in the Rain (1952) ***

Snow White and the Seven Dwarfs (1937) ***

Some Like It Hot (1959) ***

The Sound of Music (1965) ***

Star Wars (1977) ***

Sunset Blvd. (1950)
Terminator 2: Judgment Day (1991)

The Third Man (1949)

This is Spinal Tap (1984)

To Kill a Mockingbird (1962) ***

Toy Story (1995) ***
The Usual Suspects (1995)
When Harry Met Sally… (1989) ***

Wild Strawberries (1957)

Wings of Desire (1988)

The Wizard of Oz (1939) ***

Women on the Verge of a Nervous Breakdown (1988)

The World of Apu (1959)
In the tradition of Calvin and Hobbes we usually build snowmen who are just a bit "different" then the traditional ones.  This one actually looks like a pretty classic snowman (for us) but the backstory (according to Alex) is that it is in fact a zombie snowman awaiting the full moon.  Really, I need to take a look at what she's been reading lately! Later, she added a zombie snow dog to complete the snowy tableau.
But in honor of Blue Monday Mr. Zombie Snowman has blue mittens (to match Alex's) as well as a blue Peanuts hat 
Related articles
I grew up feeding our local backyard birds and it's something that the kids and I now enjoy together as well.  It's fun learning to  identify the birds that come to visit as well as learning about their habits and characteristics.
February is National Bird Feeding Month!  So I wanted to do a couple posts this month to celebrate the event.
I thought I'd start with a post about our favorite backyard birds — the ones we see and enjoy most often!
One of our all time favorites is, of course, the Cardinal.  This was my Grandmother's favorite bird and every time I see one I think of her.  She always said they were the most beautiful of the backyard birds, especially against a snowy background.
photo credit: BaylorBear78
One of my personal favorites is the Tufted Titmouse, who always seems to be having a good time no matter what they are doing!
My other personal favorite is the Nuthatch, I love watching these little guys scoot up and down the trees,  forwards, backwards and even upside down.
photo credit: marlin harms
We also tend to have quite a few Black Capped Chickadees (another cheerful bird), Blue Jays (who seem to like to cause mischief more then anything else) and House Finches (who bounce around in groups making a lot of noise for such small birds).
photo credit: shyindian1
photo credit: U. S. Fish and Wildlife Service – Northeast Region
photo credit: Shawn McCready
And, finally, one that we don't see very often but we hear a lot — the Woodpecker.  I believe he is a red-capped Woodpecker but it's hard to tell since we generally only see him from a distance.  One of our goals this year is to find some foods that will entice him a bit closer to the feeder so we can get a better look!
photo credit: osteopteryx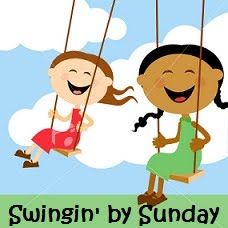 Well, with all the ice and snow the kids have been home all week.  For some reason (and I reject all claims of genetic influence for this despite the fact that it's well known that I am *not* a winter person) my kids do not like to venture out much in cold weather.
But after days cooped up I finally shoved coaxed them out the door to go play.  They even convinced DH to play with them for a bit as a break from breaking up the ice on the driveway.
We didn't have snow so much as ice and sleet so the backyard hill was more like an ice rink, or a luge course.  Which meant that everyone ended up crashing into the woods at the bottom until they figured out that it might be wise to get off the saucers before reaching the trees!
But the most amusing part was watching everyone trying to hike back *up* the hill!  The preferred technique seemed to be a half-crawl, half-walk:
The consensus ended up being that the saucers were not even necessary and it was just as fun to just slide down the hill on their butts!
With plenty of roughhousing along the way:
Then there was the long trudge back up the hill, again:
Not being a cold weather person myself (I did mention that already, right?!) I mostly stayed inside and watched the antics — it was better then anything on TV certainly.
Here is a photo of our backyard, which really does look lovely with all the snow (and ice!).
And this is a close up of our quirky little tree in the backyard which has never managed to grow quite straight but has such pretty spring/autumn that we decided to leave it.  It adds "personality" we decided
My children are at an age (8 and 6) when the future is full of possibilities and anything they wish might just might come true.
My daughter is a tad more cynical, being a bit older then her brother, but even she has a laundry list of wishes that make up how she sees her future life.   One of her wishes is to have a home and enough money to have a rescue center for cats (and maybe wildlife as well).  She says she will rescue 52 cats and make sure they go on to happy homes and loving families.   She wants to live on a farm and have a horse (or several) to ride in the fields.  She wants a pond with ducks and a room full of books about animals.  And she wants me to come and visit her and help groom the kitties
Mac's wishes have a different focus of course — he wants to have a train museum (with a lot of Thomas trains), and a bug museum as well.   We watched a story together on Sunday morning about a gentleman who has the largest train collection in the world.  Mac found that fascinating, so many trains!  But he didn't understand why the man would collect the trains just to sell them again without ever playing with them.  Completely nonsensical to a six year old train lover!  Mac said anyone who wants to can come and play at his train museum — it will be open to all who love trains as much as he does.
I don't discourage these kinds of dreams, my adult "realities" have no rightful place here.  I don't point out to Alex that being a farmer (even of a small farm) can be a hard life or that running a rescue center might be even tougher in terms of monetary survival.  I don't tell Mac that he will probably outgrow Thomas (but hopefully not trains in general).   Because I could be wrong and their dreams may in fact become reality, maybe not in the exact way they envision but in some form.
I was a dreamer as a child.  One of my childhood wishes was to live in a lighthouse.  I wished for a house with a huge library — one so big it needed a fancy rolling ladder to reach the top shelves!  I wished for an Andalusian horse — black, of course
   None of these wishes came true — they were forgotten, or pushed aside, or reluctantly gave way to the realities of daily life.
As an adult I know that wishes can be elusive, and yet I still wish for things, especially for my children.  I wish for furry kittens for Alex and noisy train engines for Mac.  I wish for them love, happiness, peace — and the ability to look back and appreciate that wishes are crucial to our hearts and our souls, even the ones that are fleeting.
And maybe someday I will get to stay in a lighthouse or visit Egypt or ride an Andalusian — or, maybe I'll just visit my daughter and brush kitties before sending them off to good homes  and talk trains with my son as we build layouts on the floor of his museum.
Well, it was either that or Mandatory Cute Animal Photos!  At least until it warms up and I can get outside to photograph something blue
In the meantime, I give you Mac and Alex showing off their blue church t-shirts at the playground before the church picnic this past summer.  They had a blast at the picnic and thought it was fun to have matching shirts.
Alex holding one of her favorite beanie kitties:
Mac whose smile shows off a lot of missing teeth — the tooth fairy was working overtime for a while:
Alex being a typical "Doodle" as we call her:
And a rare photo of Mac actually sitting still — I save these to prove to myself that it does happen occasionally: