I have seen beavers at the zoo, but I have never seen a beaver in the "wild", so it was really exciting to me to have that opportunity.  The kids were at the Wildlife Rescue Center for their Junior Volunteer meeting last weekend, so I decided to take a walk around the grounds since it was a nice day.  One of the Rescue Center's employees had told me that they were having a real problem with the beavers that live at their pond — seems they are chopping down a lot of the trees!
So I wandered down one of the hiking trails to check out how many trees the beavers have taken down recently — quite a few actually!
I've never seen beaver tree-felling techniques up close before!
They certainly are industrious:
After looking at the wide swath of missing trees, I walked by the pond for a bit.  The beaver dam itself is on the other side of the pond and it was too muddy for a long hike on that particular day.
But then I surprised a beaver who was hanging out along the edge of the pond — I surprised him, he surprised me — he slapped his tail most emphatically at me and swam away.  I stood there for a while hoping he would return, which he eventually did, clambering back up at the edge of the water and eyeing me up for a bit before deciding I didn't look very threatening.
I took several pictures of him (or her), although my camera is very limited.  I was just so excited to get to see a beaver in a natural habitat:
Alex was so jealous when I told her that I got to see one of the beavers.  I've promised her that next month we will get to the meeting early and take a walk over by the beaver dam — maybe she will get to see one of the furry critters herself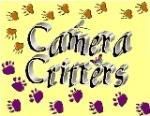 Related articles