Fun for Now, Skills for Life   Widely recognized throughout the Midwest as Ohio's premier summer camp since 1959, Falcon Camp offers a beautiful lakefront setting, talented experienced staff, and a wide range of activities. "Fun for Now, Skills for Life" is not just a catchy motto but truly defines what Falcon is about.
Camp is designed for boys and girls ages 6 – 16 in 2,4,6 or 8 week sessions. Each day campers choose their own schedule within a general framework. Daily activities are separate for boys and girls with planned coed events. Riding, sailing, swimming, riflery, crafts, tennis, drama, archery, mountain biking and so many more activities are offered. Instruction from beginner to advanced is offered in each activity.
We have a strong reputation for making sure a camper's first overnight experience is very positive. Our non-competitive environment is inviting to campers who may be hesitant to try something they have never done before, while our awards system challenges our most experienced campers. The 1:4 staff/camper ratio allows individual instruction and attention. Most of all it's great fun!
Falcon also has a special Young Adventure program for campers ages 6 -9. These one week intro sessions are designed for first time campers. ACA accredited, many NE Ohio references are available along with campers from all over the United States and the world. Being so close to several major cities allows families to visit beforehand, meet staff and feel "at home" prior to attending. Falcon is an outstanding opportunity for fun and learning.
A summer at Falcon is a special experience where good things happen by design. Visit our website, www.falconcamp.com, call 800/837-CAMP or email Info@FalconCamp.com for more information. Located on Leesville Lake in Carrollton, Ohio.
Coupon: Get $125 off a two week session at Falcon Camp! http://www.windycitykidsguide.com/coupon.php?bid=11084&lid=13930&dealid=1154®ionid=261
Last year Muffin made her debut at predicting the weather just like Punxsutawney Phil.  While it's true that Muffin is a Guinea Pig, she is at least as cute as Phil!  You can read all about her first foray into weather prediction here.
This morning Punxsutawney Phil, that delightful groundhog, predicted an early Spring which is great news!  I'm always ready for Spring once we get into February.  Phil was up and predicting at 7:28 a.m. which is a bit early for Muffin, but once she had a leisurely breakfast she was ready to make her prediction.
Here she is getting ready to make Guinea Pig history again (you can't rush making history!):
And did she agree with Phil?  Yes, she did!  Muffin did not see her shadow (as evidenced in the photo below) and she is happy to announce that there will indeed be an early Spring!  Yhea!
Of course, considering how overcast it was this morning no one would have seen a shadow anywhere.  But Muffin said she looks so good in her outfit that we should ignore such niggling questions and admire her adorableness instead!  After all that hard work she was happy to retire back to her cage for a leisurely lunch (do you see a pattern here?).
A photo of our less then lovely start to the day (taken by Mac):
Fortunately the day turned out to be lovely, despite the gray start, and Muffin is pleased to have played a part in her second annual role as resident Saint Louis MO weather predictor.  Three cheers for Muffin the Guinea Pig (who will gladly except payment for her weather genius in the form of carrots, parsley or cilantro – for all those leisurely meals she likes so much!).
Note:  All pictures of Muffin were taken by Alex.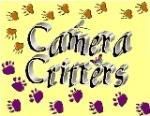 Related articles
Typically the first snow of the season means photos of the kids happily running around throwing snow at everyone and everything. 
But this time we give you something different – this time you get:
Muffin, Brave Guinea Pig Explorer of the Artic Midwest
Muffin had no idea that she would be expected to tackle a snowy landscape during her trip outdoors today.  But she is known for her resourcefulness and she was able to find some tasty grass to nibble on despite the chill.
Good thing she had an appropriate sweater for such a major event!
One of the best parts of an adventure is getting to explore – in this case, Muffin spent some time exploring the woods behind the house.  She found a great spot to enjoy the view (a fallen tree trunk). 
She was hoping to see some wildlife – a deer perhaps – but it was so quiet she could listen to the snow falling and think deep thoughts, like what she should request for her snack tonight (carrots, cilantro or peppers?). 
Here is the view Muffin is enjoying, very pretty.
Thank you Muffin, for sharing your adventure!
(All Photos by Alexandria)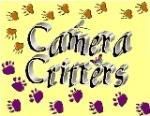 Related articles
Our apologies that this took a bit longer to accomplish then we had planned – it seems everyone in the family has been taking turns being sick (except for Muffin, who remains happy and healthy fortunately) and then Dad had to go and end up in the hospital for a couple days.
But Alexandria and Muffin (the Guinea Pig) are happy to officially announce the winners of their first ever Carrot Decorating Contest!  Since there were four entries Muffin picked the order (via numbered pieces of paper) and we decided to give prizes to all four entries!
Here is Muffin organizing her list of winners, isn't she cute in an official looking way!  She took her job as judge very seriously!
The first place winner is:
Lola, Buffy and Broccoli (the guinea pigs) (aka Cavy Savy) for their delightful seahorse carrot carving.  Muffin has informed Alex that she would like some of her carrots carved in the shape of seahorses in the future, no more plain carrots thank you very much!!
The second place winner is:
Cosmo (the Parrot) for this wonderful Carrot Cabin that Muffin would like to move right into even though she would be tempted to eat it!  She is especially fond of the carrot pathway, how cute is that!
The Third Place Winner is:
Theodore Hamilton III (the guinea pig) for this fun Carrot Rocket Car.  Muffin is really hoping to get one of these for Christmas (hint, hint to the humans around here!!):
And Fourth Place (Honorable Mention) goes to:
Isadora (the Mouse) for her tasty Carrot Cheese Plate which Muffin thinks is great because while she doesn't eat cheese she can certainly appreciate it when it's made out of carrots!
Thank you to everyone who entered!  We had so much fun with this and Muffin is hoping to convince Alex to do another contest of some sort in the spring.
All prizes are packed and will be going out in the next day or so, we hope everyone enjoys them!!
Hugs and Wheeks!!!
Alexandria and Muffin the Guinea Pig
Related articles
Update as of 12/13/12 — the judging shall commence, we plan to have the winners posted this weekend — wheek!
Update as of 11/28/12 — we have received three entries already and have two more on the way!  There are some impressive carrot decorating skills out there so don't be shy send in your creation and join the fun — wheek!
Hey everyone –
My name is Muffin (or Muff to my friends, which I consider all my readers to be!).  That's me in the photo above preparing my blog post – am I cute or what?!
So do you want to enter a cool contest?  Of course you do!
All you have to do is have your human help you decorate a carrot – it can be any design you want – carved, embellished, etc. — have fun with it!  As long as all decorations are edible, so your carrot lover can have the creation once you have sent the photo in, of course!  I know that most of time humans carve and decorate pumpkins but lets face it, I'm a carrot lover and a carrot eater – so carrots seemed like a great choice for a guinea pig holding a contest, don't you think?!
Then have your human take a photo of the wonderful carrot creation and send it to us by email (marielay@gmail.com) along with your name, your human's name and your email address.
My human (Alexandria who is 9) and I will pick the top three (with only numbers attached to the photos so she and I won't know who submitted what) that we think are the most fun and creative and then I will select (by random nibbling) the grand prize, second place and third place winners.  I'm really good at picking winners – wheek!
Any pet who eats carrots is welcome to join in the fun – guinea pigs (like me!), rabbits, hamsters and gerbils.  If you are a dog, cat, chinchilla, etc. and you love carrots, well, join in, don't be shy, carrots are lots of fun!
I bet you are wondering what you can win, right?  Of course you are!
The grand prize winner will receive a $20 gift card to Petco (so you can buy lots of goodies) and (if you have a young human) two beanie babies.
Second prize will be $10 worth of treats from Petco, selected for whatever type of cute animal you are.
Third prize will be a small mystery prize.
And we will, of course, post the top three entries so everyone can admire your creativity!
The contest will be open from November 23 to December 13, so get your entries in now.  I can't promise delivery of prizes by the holidays but we will do our best and get them to you asap!
xoxoxoxox and Happy Thanksgiving (a tad late) to all my furry friends!!!!
Muff
Countess Lady is ready for the ball at Downton Abbey:
This is what happens when you let a 9 year old watch too much Downton Abbey!  Lady had a bustle but she managed to wiggle out of it, although she was very patient about the "gloves", "dress", and ear decorations!
The indignity that a dog must endure in the name of historical dressing up
Related articles
This looks like so much fun.  I always wanted to go to a Harlem Globetrotters game when I was a kid, but never got the chance.  Now, not only could my son go to one of their games but I can sign him up for one of their clinics – he can learn basketball skills from the Harlem Globetrotters!  As Mac would say – Awesome!   He is signed up for the clinic and really excited about going!
Take a look at the information below and see if this might appeal to your junior basketball fan – it sounds like it's going to be a blast!
For the first time, the Harlem Globetrotters are conducting summer skills clinics to bring boys and girls ages 6-14 behind the curtain to see the Globetrotters' electrifying skills and tricks, while also having fun staying active.
Each participant receives:
A free ticket voucher (valued up to $40) to see the Globetrotters during their 2013 World Tour
Autographs and photos with the stars!
3-day trial pass to 24 Hour Fitness
Clinic Locations:(These are just the clinics – the games for your tickets are in 200 cities)
Phoenix       Houston     San Francisco       New Jersey
Denver        Dallas        Los Angeles         Seattle
St Louis       Miami        Las Vegas
Save $10 on registration! Enter the Coupon Code USFAMILY on the cart page after completing your registration or mention when calling 1-800-641-HOOP (4667) Click Here:  http://www.harlemglobetrotters.com/basketball-skills-clinics/summer-2012
Disclosure:  I will be provided with a ticket(s) to the Harlem Globetrotters Show when they are in town in exchange for this post.  I was not compensated in any other way.  All thoughts and opinions are my own. 
Working on Day 11 of the 31 Day Blog Challenge hosted by Boy Oh Boy!
So, 15 of my favorite things:
My family, of course!!
My pets – even the rather silly dog and two very bossy guinea pigs (who are often much bossier then any of the four cats – really!).  Actually animals in general would be on my list of favorite things since I like almost all of them (sorry spiders you are *not* included on this list – go away!)
My friends, who put up with me!
Chocolate – my main nefarious addiction
Pepsi – the other nefarious addiction (although I also really like Dr. Pepper!)
Sleeping – one can never have enough sleep IMO!
Exploring new places and things to do with my kids – I love when we find cool things to do and can add them to our list of experiences, especially those that involve nature and/or animals in some way (see photo below of Mastodon Creek, one of our favorite places to explore).
Reading – the way I de-stress and relax – another, less nefarious, addiction
Baking – when I have the time and inclination
Doing crafty things with the kids – again, when I have the time, but I love that both my kids are creative and imaginative and I like to think that doing crafts with them when they were younger helped with that – well, maybe a bit – LOL
Pasta – I could eat pasta every day for a very long time, yum!
History – although mostly pre-WWI history – including historical fiction/mysteries and historical shows/movies (like Downton Abbey!!)
Surfing the internet (mostly blogs, email and Pinterest)
Writing real letters (aka snail mail) and postcards – I don't do it as much as I used to but I do enjoy sending and receiving actual mail that is not a bill or junk.  I belong to LEX (The Letter Exchange) for just that reason!
And, last but not least, listening to my children – whether they are talking to me or their Dad or just playing together or even talking to themselves (they take after me in that regard!) I love to hear their voices, their laughter, their creativity, their imagination – I could do without the bickering but then I remind myself that even that will be missed someday (well, maybe!).
So there you have it – 15 of my Favorite Things – what are some of yours?
Related articles
My first instinct is to say I don't have one since I tend to be hyper critical and certainly my own worst critic.  So I asked my kids, more our of curiosity then anything else, but their answers were interesting.  Mac told me that he likes my hair – that it is soft and he loves to stroke it.  He was *very* upset when I got it cut short and informed me that I had to grow it long again, right away.  Since I didn't like it much short either I told him I would.  When I was younger I did have very thick hair with a bit of a wave.  It was pretty.   When I got sick I lost most of my hair and when it came back it was more curly and not as thick.  But Mac is right that it is still probably one of my best features.  Of course, he also likes my glasses which he says makes me look "cute" — LOL!
Alex, on the other hand, told me that my eyes are very pretty.  Interesting considering my lamentations growing up that my eyes were brown and *so* boring.  But she tells me that when she does something that makes me smile or laugh they light up and she knows I love her.  How sweet is that.
So I think I'll listen to my kids and remind myself about the good things instead of always being so focused on the negative – and if I forget maybe they will remind me once in a while – LOL
I don't even know if I have a photo since I tend to avoid photos like the plague so I'm going to publish this and if I can find a photo I will add it.